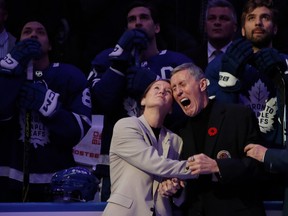 Article content
On the grave of Jackie Robinson, the most important man in baseball history, these meaningful words are written: "A life is not important except in the impact it has on other lives."
Article content
The same words could be written of Borje Salming, gone so soon, gone so quickly after we just saw him. We all had our visits, in person or in the stands or in our minds or through a television screen. We all cried — those who can — and now we're crying just a little bit more.
Article content
For a hero gone too soon. For a hero, we knew or wanted to know or watched or were touched by.
Article content
It's personal, the relationship between hockey star and a doting public in a city like this one. And it was different then than it is now. Making it harder to say goodbye, this soon, just days after just seeing him at Scotiabank Arena being honoured on the Hockey Hall of Fame Friday night and then honoured again one evening later, with Salming's face contorted in emotions, the horrible disease ALS having taken over too much of him. The tears flowing from his eyes and right beside him was a shaking and shaken Darryl Sittler, his eyes no longer dry. Certainly not dry today or tomorrow.
This was our collective chance to say goodbye to the man they called The King. Our own opportunity for one final handshake, one last selfie, one more time to say so long and more importantly say thank you.
They called him King. From beginning to end, that seemed a most appropriate nickname for Salming. He was King. He was hockey royalty. He was a giant figure so very trim on the ice and off. He was human and yet he looked chiselled, very much like the statue in his honour that is found outside Scotiabank Arena. He was a piece of art and a work of art all at the very same time.
And now gone at the age of 71. Too young for a man who never seemed to age. Blessedly quick for someone living and fighting through Lou Gehrig's Disease.
Article content
And he was ours through some great Leaf years and not-so-great ones. He was, for my money, the greatest Leaf we've ever seen. The most assists in club history. He didn't have the teams Tim Horton or Davey Keon had in the 1960s. He had Sittler and Lanny McDonald and Mike Palmateer in goal. But in 16 seasons, he played for nine different coaches, through the crazy Harold Ballard years, through the turmoil as a pioneer along with teammates Inge Hammarstrom, he watched most of his friends traded away, his teams torn apart, and still he skated like no one else, performed as few others could. In his best years, mostly surrounded by Sittler and McDonald, he finished second in Norris Trophy voting twice for best defenceman, finished third twice, finished fourth twice, and finished fifth once. He was the Larry Robinson of the Maple Leafs without the rings, without being supported by Serge Savard or Guy Lapointe.
Article content
But Robinson couldn't change hockey the way Salming could. That's what he leaves behind now. A legacy along the lines of Jackie Robinson.
He was the first Swedish star in the NHL at a time when the league was mostly comprised of North American players. He arrived with grace and aplomb in 1973, the scouting gift Gerry McNamara bestowed on the Leafs, and somehow survived attack after attack. And he just kept on playing, at the highest level, with bruises on his face, with blood on his equipment, with scars on his forehead, with a target on his back. He just kept on playing. And a year later, Anders Hedberg and Ulf Nilsson were starring in Winnipeg. And then came those who would follow: Kent Nilsson, Peter Forsberg, Mats Sundin, the Sedin brothers, Daniel Alfredsson, the legend Nicklas Lidstrom, and so many others. Many of the greatest hockey talents, the greatest hockey minds, we've ever known.
Article content
His career was against all odds and really so was his life. With ALS tearing him apart, with his speech gone, his hand coordination fractured, somehow he found the strength and energy to make one final trip to Toronto, to live through the Hall of Fame game and the emotional celebration of his career that came one night later.
Maple Leafs legend Borje Salming dies at age 71

BORJE SALMING DIES: Leafs legend was diagnosed with ALS earlier this year

LEAFS NOTES: Borje Salming feels the love from Maple Leafs and fans
He returned home to Sweden for one final night of presentations that would follow. He was there as Lidstrom was crowned as the greatest Swedish player in history and he was named to the all-time Swedish all-star team on defence beside Lidstrom and awarded as well for his historical brilliance. That night, his wife Pia announced that he would make no more public appearances. She said he was too tired.
She knew he was. Seven days later he was gone.
Gone, but never to be forgotten. You don't forget greatness. You don't take it for granted when you see it or experience it. The King brought a gift to Leaf Nation and to the hockey world. Long live The King.