Introduction: Black Friday could be bleak as consumers cut back
Good morning, and welcome to our rolling coverage of business, the financial markets and the world economy.
The stakes are high for retailers today, as they try to tempt shoppers to spend with a flurry of Black Friday offers.
But they could face a "Bleak Friday" this year, economists say, as the cost of living crisis means consumers will resist discounts on new electronics kit, homeware, clothing and the like.
Plus, ongoing strikes at Royal Mail could deter people from shopping online.
Black Friday, originally an American post-Thanksgiving wheeze, is now more of an global event – thanks to international retailers looking to kick-start the festive rush.
These days, 'Black Friday' deals often last at least a week – running into the pre-Christmas offers, and then the January sales. But some of the offers may not be as generous as they look (and may get more generous once retailers get desperate to shift stock).
The CEBR thinktank reckons we could see a "Bleak Friday", with discounts unlikely to save struggling retailers as UK consumers cut back spending by an estimated £1.5bn in the last quarter of this year.
The CEBR say:
The cost-of-living crisis, combined with warnings that discounts are often more generous at other times of year and the threat of a Royal Mail strike, will mean that it is a weak year for Black Friday sales and we may see January sales start early in an attempt to shift stock.
Black Friday can also suck in spending that would have happened anyway, either before or after the big day/week. This year, people simply have less disposable income to spend at all, with surveys showing many households are cutting back on spending.
The CEBR says:
While 42% of Brits have reported shopping around more due to the rising cost of living, suggesting they are looking for discounts, a higher share, 65%, reported they are spending less on non-essentials due to these cost pressures.
It's the first Black Friday without Covid restrictions since 2019, which ought to help retailers get customers into shops. But sales and profits could still be lower than 2021.
As Danni Hewson, AJ Bell financial analyst, put it:
"Friday should be one of the busiest days for UK retailers but concerns about constrained budgets and the added issue of a strike by Royal Mail workers are both expected to make the affair a rather damp squib.
Retail expert Richard Lim told the BBC he was expecting Black Friday to be a more "muted affair" with sales down on last year.
Lim said:
"Inevitably, I think what we're going to see is consumers being much more careful with their spending."
Also coming up today
Retail giant Amazon faces a wave of Black Friday protests and strikes, as workers stage walkouts over pay and conditions (more on that shortly).
Royal Mail staff will be picketing outside the postal groups offices again today, in an ongoing dispute over pay. Eight more days of action are planned in the run-up to Christmas.
The UK's wave of industrial action has deepened, with nurses announcing they will strike for two days next month.
Royal College of Nursing members will stage national strikes – the first in its 106-year history – on 15 and 20 December, with action expected to last for 12 hours on both days.
The unprecedented industrial action will seriously disrupt care and is likely to be the first in a series of strikes over the winter and into the spring by NHS staff, including junior doctors and ambulance workers.
European financial markets could be subdued, with Wall Street reopening for a half-day after Thursday's holiday.
The agenda
7am GMT: Germany's Q3 GDP report (final estimate)

7.45am GMT: French consumer confidence report

9.30am GMT: Latest UK public opinions and social trends report

Noon GMT: Mexico's Q3 GDP report
Key events
Nationwide: Black Friday to be busiest shopping day of the year
Consumer spending this morning is up around a sixth on a normal Friday, according to date from Nationwide building society.
By 9am, Nationwide members had made 1.37 million transactions – 17% higher than a typical Friday.
That's about 7% more than on Black Friday in 2021, despite cost of living pressures.
The lure of a Black Friday bargain ahead of Christmas is "clear to see", says Mark Nalder, Director of Payment Strategy at Nationwide Building Society:
"Early indications are that this Black Friday will be the busiest shopping day of the year."
Nationwide tell us that Black Friday transactions are up 35% compared with 2019. One change, though, is that the pandemic has accelerated the move towards card payments rather than cash….
Black Friday could be a lifeline for retailers ahead of a potential rise in insolvencies early next year.
Owen Bassett, retail expert and underwriter manager at Atradius, which provides trade credit insurance, says Black Friday is "hugely important for retailers this year".
Consumer demand has been relatively low until this point, and people are having to make tough decisions around where they spend their money in light of the soaring cost of living. Black Friday is an opportunity for retailers to entice them to loosen their purse strings.

"Businesses will be hoping to utilise Black Friday promotions as an opportunity to clear through excess stock that they are holding onto and generate cash in order to improve their prospects for the year ahead.

After a relatively subdued period for retail insolvencies due to lasting Covid-19 government support, we're seeing numbers creep up, and if retailers fail to effectively manage their inventory and supply chain, we could be faced with an influx of insolvencies in the sector in the Q1 of 2023."
Just in: China's central bank has cut its benchmark interest rate, as concerns over rising Covid-19 cases mount.
The People's Bank of China has lowered its Reserve Requirement Ratio rate by a quarter-point, which will allow banks to lend more money to support the economy.
Yesterday, China imposed a fresh series of Covid lockdowns after recording a record daily high in coronavirus cases.
Amazon strikes and protests planned in Germany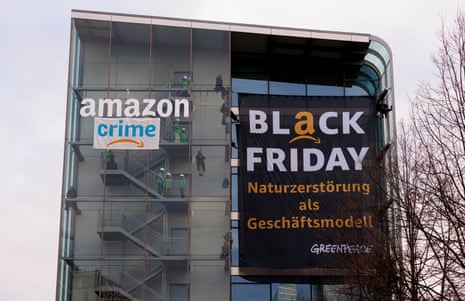 Work stoppages were planned at 10 Amazon fulfilment centres in Germany, according to the Verdi union, as part of a global day of strike action across the company's operations.
Verdi demands Amazon recognise collective bargaining agreements for the retail and mail order trade sector and called for a further collective agreement on good and healthy work.
A spokesperson for Amazon in Germany would not immediately comment on the demands when contacted by Reuters.
"This is the first time that Amazon has had an international strike day," said Monika Di Silvestre, Verdi's representative for Amazon workers, adding:
"This is very important, because a major global corporation like Amazon cannot be confronted locally, regionally or nationally alone.
Greenpeace activists have already protested at Amazon's Munich headquarters: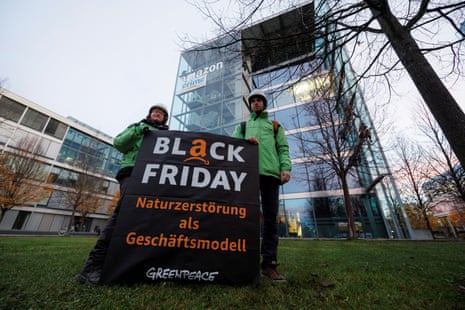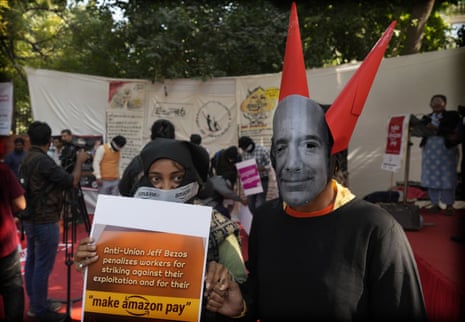 There have been protest against Amazon in New Delhi today, accusing the company of treating workers unfairly.
Unions in India have been pushing the tech giant for higher minimum wages, reduced working hours, fixed-term contracts, and better working conditions, Business Standard reports.
Parminder Jeet Singh, executive director at IT for Change, said:
"Amazon has become a global giant exercising a completely new model of exploitation.

It is a prototype and the main sign of a new kind of global corporation, which remotely controls all activities of a sector. It becomes a new paradigm of granular control, which creates exploitative conditions for workers and traders.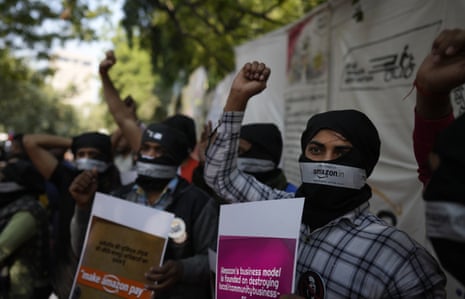 Jaguar Land Rover cutting production at UK factories until spring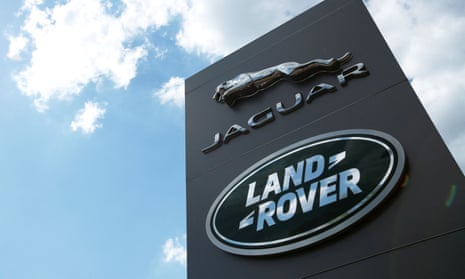 Newsflash: Jaguar Land Rover is cutting production at its UK factories until the spring, my colleague Jasper Jolly reports.
It's a sign of JLR's continued struggle to source semiconductors amid the global shortage.
The carmaker, whose chief executive, Thierry Bolloré, last week announced his resignation, has decided to cut production at factories in Solihull and Halewood between January and the end of March as it tries to prioritise its most profitable models, said industry sources.
JLR and other carmakers have been plagued by shortages of semiconductors since early 2021.
Many carmakers cut their orders for the computer chips at the start of the coronavirus pandemic, only to find themselves at the back of the queue when demand roared back.
Here's Jasper's story:
Tips for avoiding Black Friday scams
Cyber-criminals target Black Friday to trick consumers looking for bargains – so here are three threats to watch out for (from website Hey Discount).
1. Suspicious links in websites, emails and text messaging
There are a few ways you can check a link that appears in a text or email. The best way to tell is by examining the sender's information, you can do this by clicking on the contact information of the sender, examining the email address or phone number, and checking that it matches up with the company it claims to be.

If you notice any strange email addresses or unidentified contact numbers, there is a chance that it is a potential scam.
2. Unfamiliar Websites
Many scammers will set up fake websites with fake products listed to retrieve your bank details and information. While shopping online, opt to use an internet browser that uses advanced technology, and look out for the padlock icon within the site's URL bar at the checkout, as this helps protect your information.

You can also use other websites to check the legitimacy of the seller, but ultimately it's best to stick to familiar websites, especially around this time of year.
3. Verification Code and Delivery Service Scams, designed to evade two-step authentication
These messages usually pretend to be your bank or a company you've recently made an order with. These messages will typically ask you to finish your transactions by inputting a verification code. Fake delivery messages, sometimes disguised as the Post Office and other well-known delivery companies, are also common during the Black Friday period, detailing information about a product you have recently purchased, asking you to click a link and pay a delivery fee to retrieve items that haven't yet been delivered.

Our advice would be to be cautious of any text messages you receive beyond the checkout, and to always double-check you've received an order confirmation via the email provided at the point of order to ensure your purchase has definitely gone through.
Some economic good news – Germany's economy grew a little faster than first thought in the last quarter, which may ease fears of a deep recession.
German GDP expanded by 0.4% in July-September, up from an earlier estimate of 0.3%.
It means Europe's largest economy managed to keep growing through the first three quarters of 2022, despite ongoing Covid-19 disruption, supply bottlenecks, surging energy prices, inflation, and the war in Ukraine.
Shares in UK homebuilders have dropped in early trading in London, amid worries that a recession and rising borrowing costs will hit the housing market.
Persimmon (-2.4%) and Taylor Wimpey (-2.4%) are the top FTSE 100 fallers, with Barratt Development down 1.7%.
Analysts at Berenberg have cut their share price targets for the housing sector this morning.
Also, a Rightmove survey has found that demand for rental homes across the UK has jumped. Some potential first-time buyers are putting their home-buying plans on hold in the hope that mortgage rates will drop in the new year.
That's driving up rental prices – a blow to tenants (which will leave them with less disposable income for Black Friday).
Energy regulator Ofgem has been accused of an "abdication of responsibility" after announcing a package of reforms designed to bolster consumer protection and ensure energy suppliers are more resilient to market shocks.
Oftem says its new rules will shield households, after taxpayers had to pick up a £9.2bn bill after nearly 30 suppliers went bust.
The boss of Centrica, though, has criticised Ofgem for failing to protect consumer deposits, warning:
"If and when a large supplier fails, the recklessness of the decision not to address this issue will be clear for all to see."
Here's the full story: