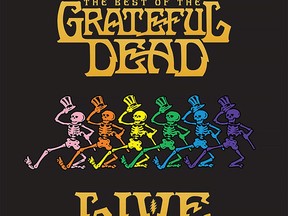 Article content
This week I've gathered a handful of my favorite Grateful Dead live tracks to create a two-hour, eight-song playlist of transcendent sonic exploration, meandering guitar lines, soaring bass lines, rich vocals, and layered percussive textures.
Article content
I confess to not being a deep diving, smuggling trading obsessive Deadhead. I know their work well enough to make educated observations, but I don't claim to have an authoritative grasp of their catalog.
These performances are taken from four live albums that should be considered essential to any serious record collection. Die-hard fans would probably turn up their noses at some of these choices (and complain about the inclusion of too many covers), but I'm attempting to walk the line between accessibility and exploration, so please allow me some leeway.
Each song is between 12 and 16 minutes long, with the exception of Dark Star's glorious performance (which runs over 31 minutes).
Cornell 5/8/77
Recorded live at Barton Hall, Cornell University in Ithaca New York, this is considered by many Deadheads to be the greatest show the band has ever played. Some even use the term "Holy Grail" to describe it.
Article content
Pacific Northwest '73-'74
This collection includes six shows from Portland, Seattle and Vancouver (two in each city). It's a 19-CD box set featuring over twenty hours of music and stunning original artwork by West Coast artist Roy Henry Vickers. Wish list material, here.
Sunshine Daydream Concert (Veneto, OR 27/08/72)
This is the complete concert that was immoral in the movie Sunshine Daydream. Featuring celebrated performances by Casey Jones, Sugar Magnolia, China Cat Sunflower and Playing in the Band, the two tracks that stand out above all others are Bird Song and Dark Star.
Europe '72
Even though the Europe '72 triple vinyl was the original release that everyone seemed to own, devoted collectors can now purchase a mega box set featuring all 22 shows from the tour on 73 CDs. Oh, dream…
Article content
PLAYLIST:
Truckin' (London, 05/26/72)
Perhaps the band's most famous song, this version is lively and joyous.
Here Comes Sunshine (PNE Coliseum, Vancouver 6/22/73)
Composed by Jerry Garcia with lyrics by Robert Hunter, the song was inspired by the great flood in Vanport, Washington in 1949.
Don't Vanish (Cornell 8/5//77)
This Buddy Holly cover has been in the band's setlist for decades.
Fire on the Mountain (Cornell 8/5//77)
This was composed by Dead percussionist Mickey Hart with lyrics by Robert Hunter.
Dancing in the Street (Cornell 5/8//77)
This song written by Marvin Gaye was a hit for Marth & the Vandellas in 1964. The Dead made it their own in the 1970s.
Morning Dew (Cornell 5/8//77)
Composed by Canadian folk singer Bonnie Dobson, the Dead loved this song and played it often.
Article content
Birdsong (Veneta, OR 27/08/72)
Composed by Jerry Garcia with lyrics by Robert Hunter, this song was originally written as a tribute to Janis Joplin.
Dark Star (Veneta, OR 08/27/72)
While technically written by Hunter & Garcia, many historians credit the song to all members of the band, including Garcia, Phil Lesh, Bill Kreutzmann, Mickey Hart, Ron Pigpen McKernan and Bob Weir. It's a collaborative exploration that has been a little different each time they've played it.
If you take a couple of hours with an open mind and listen to these tracks with good headphones, you'll get an idea of ​​what the Grateful Dead are all about. Guitarists should be particularly intrigued.